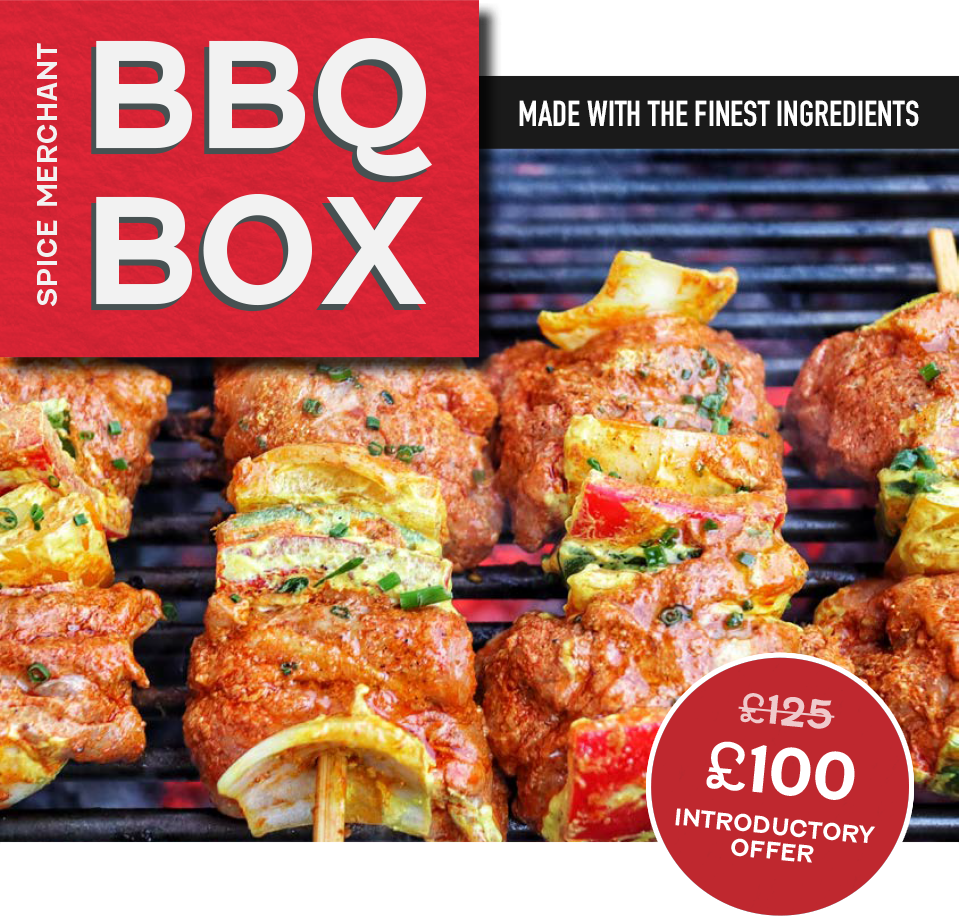 Spice up your BBQ
Our BBQ boxes are designed to bring a bit of variety to your barbecue with a delicious selection of expertly prepared Indian dishes – straight from our kitchens to your back garden.
In the box you'll receive the same high-quality produce that you'll find in our restaurant, specially prepared and marinated so you can simply take it out and stick it straight on the barbecue – no preparation required. All the food is provided raw, so you will need to cook thoroughly.
Our main box contains a selection of seven meat dishes, perfect to feed a group of around 6-8 people. If you fancy trying something different, or need some more food, take a look at our extra dishes, which we can add to your order –this is also where you will find our seafood.
Order by 10pm Monday for delivery on Thursdays
The main box - whats included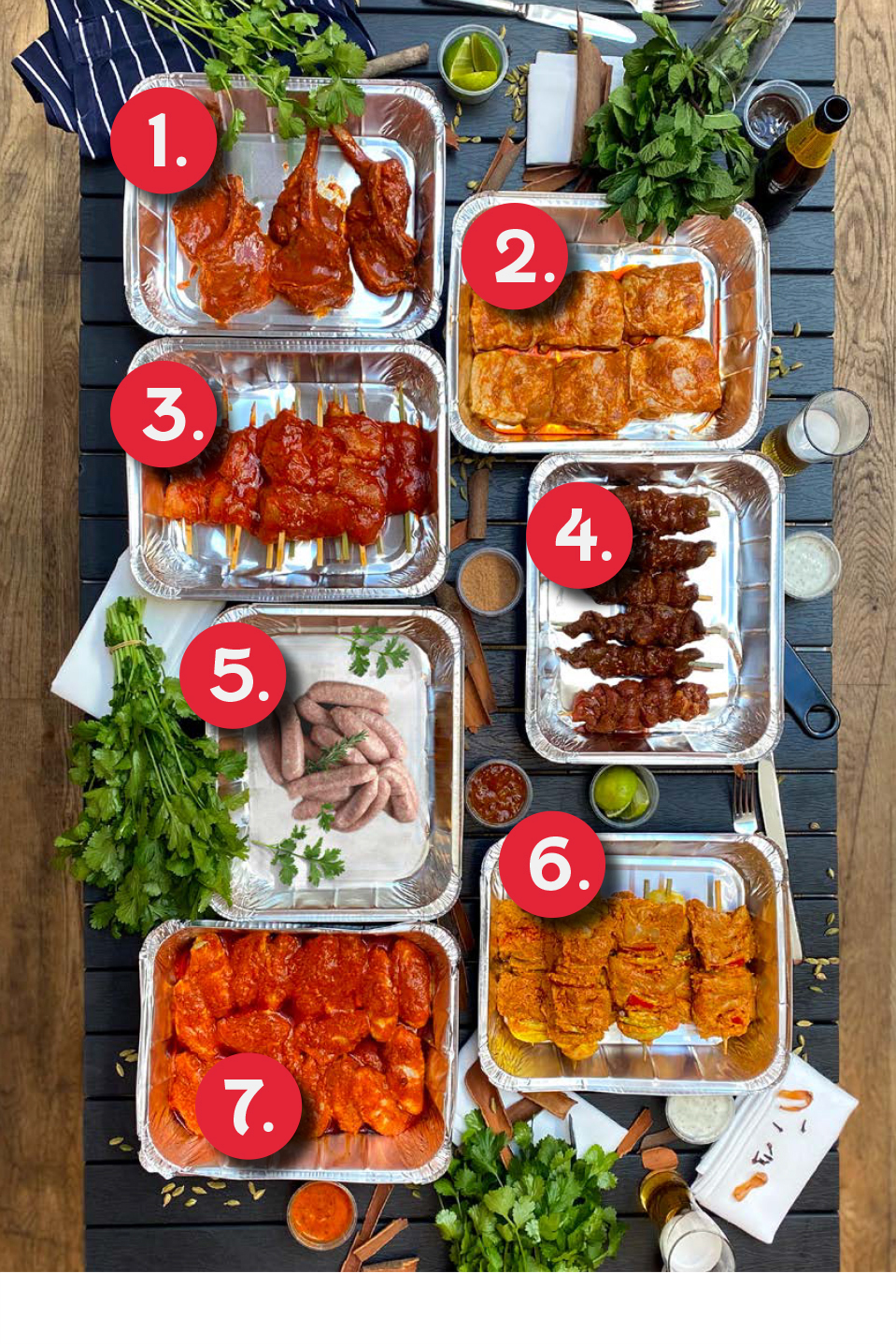 1. Lamb chops
6 pieces
English lamb chops marinated with chilli paste, robust spices, and maple syrup
Allergens: celery, traces of dairy
2. Chicken chop chop
6 pieces 
Chicken thigh on bone with chilli oil, bbq spice mix, paprika, black pepper powder 

Allergens: soya, gluten
3. Roasted pepper chicken tikka
6 pieces 

Roasted red pepper marinade with chilli paste and garam masala 

Allergens: traces of dairy
4. Lamb satay sticks
6 sticks 

Lamb leg strips, soya, teriyaki sauce, chilli flakes 

Allergens: soya, gluten
5. Chicken sausages
1/2 kilo
6. Chicken shashlik
6 sticks
Clove smoked chicken thigh, yoghurt, red chilli paste, mixed peppers 

Allergens: dairy
7. Chicken wings
18 wings 

Chilli and garlic marinated
Allergens: dairy, mustard
Condiments
Our food comes to you marinated and should taste perfect straight off the grill. But in each box we throw in six condiments that are designed to complement the flavours of the cooked food.
Apply them to the food after cooking, or simply use as dipping sauces.
1. Tamarind sauce
A sweet, thick, dark sauce that goes well as an accompaniment with all the barbecue food, especially fish.
2. Wedges of lime
A sweet, thick, dark sauce that goes well as an accompaniment with all the barbecue food, especially fish.
3. Spice merchant tomato sauce
Our own tomato sauce made with curry leaves, mustard seeds and cane sugar. great as a side for all dishes.
4. Mint sauce
Chef's tip: this goes perfectly with all the lamb dishes.
5. Mango chutney
This classic indian favourite is delicious with the lamb and chicken.
6. Kebab masala
Spice Merchant's own masala spice mixture. sprinkle over chicken or lamb after you take it off the grill to give it a bit of extra heat.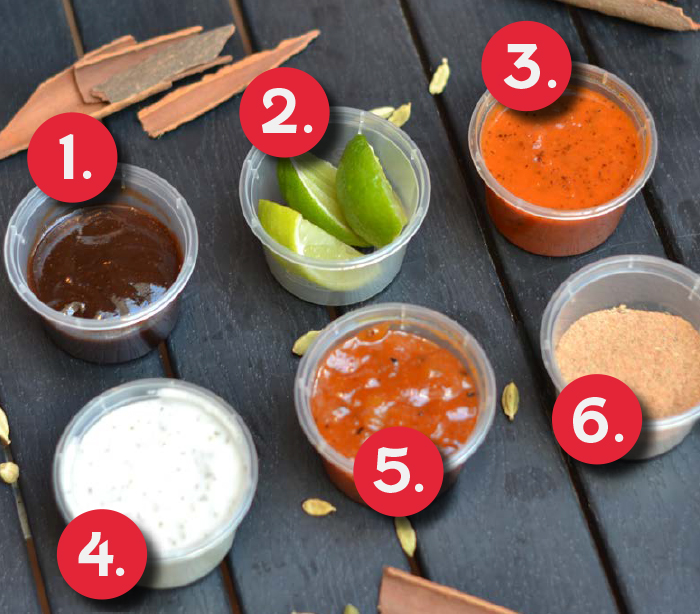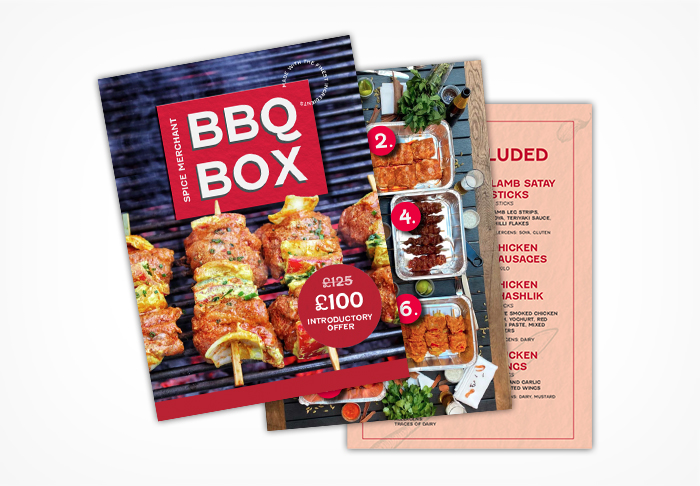 Download all the BBQ BOX details here
BBQ BOX options

The main BBQ BOX - £100.00
Includes condiments

EXTRAS - SEAFOOD
Lasooni grilled prawns - £20
8 pieces
Garlic and chilli
Allergens: crustaceans, traces of dairy
Monkfish tikka - £20
4 pieces
Monkfish tails marinated in yoghurt, fenugreek leaves and yellow chilli
Allergens: seafood, dairy, mustard
Seabass fillet - £20
4 fillets
Yoghurt, carrom seeds and black peppercorns
Allergens: dairy
Lobster tail - £20
2 tails
Butterflied and marinated with pickling spices
Allergens: crustaceans, dairy, mustard

EXTRAS - MEAT & CHEESE
BBQ baby chicken tandoori spice - £20
1 piece
Baby chicken marinated with spice merchant tandoori aromatic spice mix, chilli, and fenugreek leaves
Allergens: celery, dairy
Lamb seekh kebab - £15
6 sticks
Minced lamb meat with aromatic spices and enveloped in mixed peppers and onion
Allergens: dairy, eggs, traces of celery and mustard
Lamb ribs - £18
2 pieces
Lamb ribs marinated with robust spices
Allergens: celery, traces of dairy
Paneer shashlik - £16
6 pieces
Cottage cheese with pickled spice, yoghurt, fresh turmeric, and mixed peppers
Allergens: dairy, mustard, sulphites

Our BBQ boxes can be collected from the Spice Merchant Restaurant or delivered to your address for a £12.00 delivey charge. All oders over £200.00 are delvered FREE.